By Kamil Opeyemi
A member of the House of Representatives and a supporter of the presidential candidate of the Peoples Democratic Party in Rivers State, Chinyere Igwe, has been arrested with a huge amount of foreign currency.
Claims have it that Igwe was arrested early Friday morning in PortHarcourt with the the money which also had a paper which contained how the funds were to be distributed to agents of the PDP in the state. Although the NPO Reports could not verify the claims, it was said that the money was to influence voters in the Saturday's presidential and National Assembly elections.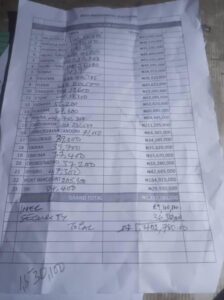 The police command in the state has confirmed taking the lawmaker into custody. While saying an official statement would be released to the public on the matter, the command spokeswoman, Grace Iringe-Koko said the command needed time.
The spokesman said that the lawmaker is being investigated for money laundering and attempt to buy voters ahead of the presidential and national assembly elections.
"He was arrested by 2:45 a.m. on Friday by police officers deployed to Independent National Electoral Commission (INEC) Headquarters at Aba Road in Port Harcourt.
"The police officers, who were on stop-and-search found a cash sum of 498,100 USD inside a bag in his car meant for the elections.
"Also recovered from him was a list meant for the distribution of the money," she said.
Iringe-Koko said that the Assistant Inspector-General of Police in charge of elections in the state, Abuto Yero had ordered the lawmaker's interrogation and arraignment in court.
The police spokesperson urged all contestants and political parties to comply strictly with the provisions of the Electoral Act and other relevant laws.
"Members of the public are encouraged to report any suspicious movements and actions they believe can cause breakdown of law and order before, during and after the elections.
"Members of the public can reach the command through the following hotlines: 08032003514, 08098880134," she added.