Luck has run out for some vandals who were caught in the early hours of Monday with stolen protective railings used for bridges.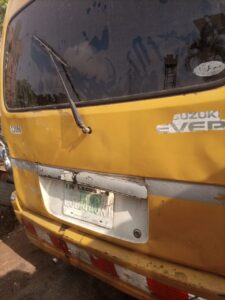 This was disclosed on Monday by the state command of the police which explained that the operatives of Rapid Response Squad,RRS carried out the operation in the early morning of Monday.
It said the RRS operatives, while on duty at Ijora-Olopa around 12:10am noticed a mini bus popularly called Korope with registration number LSD 44 XY with four occupants in a suspicious driving manner," the statement said
It said Having suspected the men in the vehicle, the officers gave the bus a chase on the Korope to Oto in Ijora area where they caught up with the bus.
"The occupants abandoned the vehicle and took to their heels.
"On searching the vehicle, 13 bars of bridge protective railings were recovered."
"The vehicle has been towed to the RRS HQ, for further investigations."
Activities of vandals have rendered many public utilities damaged as many components are carted away by criminals.