His sobriquet, "Lagos Boy" refuses to go away even as a septuagenarian. Olabode Ibiyinka George is a proud Lagosian who went sailing many years ago. He is easily remembered for his parting words to the people of Ondo State while quitting as the Military Administrator of the South-West Nigerian state, "A Lagos boy passed through Ondo."
This ebullient political warhorse became a force especially as National Vice Chairman of once a behemoth, the Peoples Democratic Party during its most shining years and when the party lords bestrode Nigeria like Colossus. As Chairman of the Nigerian Ports Authority, George was perceived as one of the most influential leaders with rotund capacity to dispense largesse to those he wished. But it was also from that office that he ran into trouble; bagging a time in prison, which marked a low in his dossier. He survived it, having been exonerated of the charges.
Today, George flaunts status of a father-figure within the PDP, a party now shoved into opposition roles and he is at the centre of the various high wired plots to bring it back to reckoning in Nigeria.
He received the trio of NPO Reports' Daniel Fayemi, Idowu Quadri and Omolade Durojaiyeinto his Ikoyi home for this extensive interview.
It's the vintage Bode George, in the mode of a master mariner who took the questions one after the other. You won't put this down until you read to the last letter! We're Sure of that:
Briefly what is your position on the state of the Nigerian polity today?
Let me be very clear. Anybody who is a dedicated, loyal Nigerian would be concerned about the state of our Nation. What is most interesting is that all the corners of Nigeria for the first time since 1914 have been singing the same music. It has never happened before. It means the attention of the government is needed because these are not frivolous songs.
My own perception is: when it comes to this plague that is driving Nigeria to the precipice, my suggestion is that Oga must listen. This is not a matter of political party but of survival as a unified country.
I have listened to some very divisive comments. As a retired General, I think we should step back a bit from the precipice of hell and reason among ourselves. The President must call a meeting of elders from the four corners of this country with equal representation. Obas, Emirs, some very senior retired generals and their equivalent in the Police; let them sit down because two heads are better than one and they would be able to seriously x-ray what is going on in their areas and proffer solutions. This is not the time to do any grandstanding. Nigerians are living in a state of hopelessness and helplessness. In a nutshell, that's the picture I am seeing. Apart from the insecurity, the killings, the spilling of blood, it's like there's a plague. There is a problem and for me as a true believer, when things happen like this, first in an African setting, people would go to the king that 'Eemo wolu, Orun ma wo, kii se Oro eni kan' (If heaven falls, it will affect everyone). So, Mr. President needs to call for a meeting. There is nothing demeaning about that. Everybody would talk and proffer solutions and the solutions will be rich enough because it's uniformly done. So, my suggestion is that he calls this meeting very urgently.
The Christians have fasted, the Muslims have done same thing. We should use this period to stabilize this platform called Nigeria.
I read some things that were very mind-boggling, where someone was calling the Yoruba some names. I don't want to believe that it's true because the social media these days, anybody can do whatever and you won't know but that statement, and the fact that the person alleged to have said it has not refuted it; I said to myself, for someone who has gotten to that level in this country, to make that very derogatory, absolutely reprehensible statement about the South… He served in the service; he was in the Police; he became a National Security Adviser at one time… So, his perception of Nigeria is that Southerners are slaves while Northerners are born to rule. Such language, I'm trying to convince myself that he didn't say that because it was too explosive. What would he now be teaching the younger generations?
I know that as we have the good, the bad, the ugly here, every tribe, every society has same thing. Why are we making statements that are not bringing the tribes together?
In 1914 when the British joined everybody together and Mrs. Lugard named it Nigeria, that time, the British planted a seed of discord between the Northern protectorate and the Southern protectorate. That seed of discord, rather that crushing it, the tree is now like an Iroko tree. We are watering it and it is expanding.
There was a time we were shouting vision 20-2020. That is, in year 2020, we would be among the best 20 economically viable nations in the world. Now, we are in the year 2020, where are we?They used to refer to us as the Giant of Africa because in terms of academics, in terms of industry and standing in any country, Nigeria stood tall. We participated in the eradication of the Apartheid in South Africa, same in Namibia, same in Angola, the Congo. What happened in Sierra Leone? We participated in resolving the crisis there. What about Liberia or even Somalia? So, what has suddenly happened to us? Within ourselves, the hatred, the heat of hatred, can burn anybody.
Maybe because of my background as a military officer, we don't fight a war by saying Yoruba man, file out, next Igbo man, then Hausa man. So, when the Yoruba man is killed, next Hausa or what have you. We don't fight a war like that. The camaraderie was established that your comrades were your brothers and you fight to defend this entity called Nigeria.
I want to join people who will light the path for the future generations. Take for example, why did they stop teaching history in schools? If you don't know history, will you not be derailing and make the same mistakes that had been made before? These are avoidable mistakes.
Look at the world now, for a couple of weeks they have been shouting coronavirus. Even the Americans are scared stiff now. My first perception was "can these be the end of times?" We should pray. In fact, Trump himself said that there must be a day of national prayers. The most powerful man in the world who used to say "it's a hoax." Now, it's right in his doorstep. Nobody has found a vaccine. If America is in panic, the whole of Europe is shutting down, how would we cope in Africa? What happened (explosion) in Festac in area in March, we must get to the bottom of it. We are hearing all sorts of stories. Gas pipe? Why are we fooling ourselves? I have never seen Nigeria in this situation. And then to compound it, I have never seen the whole world in this kind of crisis and nobody knows when it would be over because if it continues like this, half of the population of the world would be gone.
Many Nigerians are critical of the Buhari administration. The PDP has also been vocal in it's criticism of Mr. President. But the Presidency insists that most of the mess we're in as a country were created by the PDP. Don't you think Nigerians agree on this?
I remember in 1998, 99 and I remember even pre-1998. I want to situate it in a way that you'll be able to follow. General Abdulsalami left in a hurry. They prepared a constitution, copying the American system but they didn't copy it fully. I don't know those who sat with the government at that time and delivered half of the American constitution. In America, yes the President is a very powerful man, but he doesn't have a grip on all the states. He does not go to his office at the end of the month for all resources should come to him and then he will redistribute it to the people. What we are running here is a completely military system because it's not democratic. It is the whole structure that is defective. I was also in the military. We look up for orders. Once the order is given from there, it percolates to the bottom. If you pull out of line, the way they will deal with you… The boss is always right.
But in a democratic dispensation, the power resides at the far bottom of the base of the pyramid. So, whoever emerges at the top is the servant leader. Not a leader overall to dictate to you and all that. The wishes of the people must be obeyed, their needs must be met, and every four years, you go back to renew your mandate. If they like the way you have done it, you go again. Why we have been having this 'I-don't-care attitude' is because of the procedure of the Independent National Electoral Commission. It's very faulty. It's archaic; it is demonic.
Okay fine, you have your PVC. The PVC identifies you with your fingers, your face and your name comes up there. You now fill the voting card and you put it there. They will now count it. By the time it is going from your polling unit to the ward collation center, they have altered the figures and it's manually done. From that ward collation center, it goes to the local government collation center and it is also altered. By the time it goes to the state, it's also altered.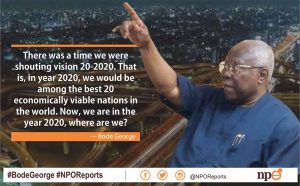 Then the state now will carry the paper, physically to Abuja and say this is the result from Lagos state. Ahahaaaaaaa! In this 21st Century? When somebody said that probably it's because of electricity, I asked what nonsense are you talking about? If you have any bank account in this country today, if anybody takes one Kobo from your account, you will get an alert. If they put money there, you'll get an alert. Is that not data processing? So, why can't we do the same and back it up with the paper? It's electronically voted and within a second, it's gone. And the Chairman of INEC will not sit down there and be saying 'yes we have results from Kaduna.' That's a joke! Even here, next door Ghana, they don't do that. That is where the Vision 20 20-20, we didn't meet up with it.
When you look at the scenario from that point, you discover that the constitution was rushed because the military wanted to get out. It's very imperfect. Now PDP came. Would you, knowing that this thing is not perfect and there has been a long period of the military rule, now start attacking that constitution? Gradually, all the fallouts, all the impediments, all those things that would not make room for correctness were becoming open. But Baba (Obasanjo) tried. No one generation can finish building the edifice called Nigeria. Every generation would come but at least be positive. Build something.
When he left, the founding fathers of our party realised that there was a loophole. In the North, they have the majority and the minority tribes. Same in the South… So, one of the major fallouts from that time was that the minority people just exist at the beck and call of the majority people and we said we are all in an association. You can't say it's only you that can be the President. So, we came up with a solution. First, we divided Nigeria into geo-political zones – the North West, North-East and the North-Central; the South West, South-East and South-South. We said there are six top positions in the land. The President, Vice President, Senate President, Speaker, Secretary to the Government and Chairman of the party; Six geo political zones, six top positions. So, they said if the first role goes to the North, then the second will go to the South. So, it will be three up, three down. Then after eight years, it would rotate. That was what saved Nigeria and democracy for those 16 years. We were struggling and trying to rebuild it because of the commitment that nobody is useless; nobody will be discountenanced. I called it turn-by-turn Nigeria Limited. But there was an issue that was never thought about; that a current person serving, who is representing a zone could die in the process. Nobody thought about that. So, when the man from the North took over after the first eight years of Obasanjo died, it became an issue. What are we going to do? Do we go back to elect someone from that zone?
The constitution of Nigeria didn't say that, the next man must step in and the Nigerian constitution overrides the party constitution. Some people even came up with something they called 'Doctrine of Necessity.' What is that? So, there was a lacuna. Because we're not God, something happened which nobody thought would happen. Those things showed the fault of the system that was handed over. The South-South man, a minority now became the President deservedly. When he was re-elected, he now had served two years here plus four years making six years. That's not up to two terms of eight years. Some people suggested that he should spend two more years to balance it up but the national constitution doesn't look at it that way and that's why we are where we are. But it's not unsolvable. We've seen that there's a lacuna here. Let's sit down and revisit that constitution. Yes it was Jonathan, a civilian President who set up a constitutional conference. I was a member. It was a real privilege to see Nigerians gathered to talk about our country. To me, no document is perfect; no constitution anywhere in the world is perfect. You keep working on it. By the time we rose at the end of all the discussions, there were all kinds of suggestions and ideas. Some people said we should go back to regional government. My own committee was on restructuring and elders in the committee wanted to recreate the Northern region, Western region and the rest. But how would that work? I said to them tell an Ekiti man that you're moving back to Ondo, or an Ogun man that he's going back to Ibadan. In fact, in the floor there, Ibadan people said 'we don't want you, stay where you are.' So, going back to region is near impossible now. Let us look at it as United States of Nigeria because no state would like to go under anybody. They are even clamouring for more states for Justice. We have about 36 now. We have not resolved that.
Whatever those guys there now managing (APC) are saying; in my parlance they'd say you're ignoring leprosy and treating ringworm. They've been there now; this is the fifth year. Everything now that is happening; it is the PDP's fault and they are in their fifth year of governance! I said it when they congregated, I looked at them and said this party, the APC is a congregation of strange bedfellows. What has happened now? You know when they first came? They said what is PDP's zoning? We don't need zoning. Get anybody, so winner takes it all now.
What have we done in the education sector? What have we done in the Agric sector and then look at the electricity supply. Look at even the telecommunications and the banking industry. See, those guys are super wealthy; round tripping money and all that. What I distaste most is, open the CNN, you see our banks advertising there, our telephone people advertising there and when you see it, they are speaking Pidgin English. They are speaking Yoruba on an international channel. Who is that man who wants to come and buy your thing in Nigeria? You know how much they are paying? $170,000 per second! Now, that money would send many young children to free schools and feed them three times a day. So, what is this ego? Put all our banks, all their capital assets together, it's not up to 10 per cent of South African ABSA bank. Have you ever seen ABSA bank advertising on CNN? And we'll now say we want to go and borrow money. Why would anybody in the World Bank believe us? So, you see the inhumanity in our people? Somebody took N2bn in bullion vans into his house on election day. They asked the Chairman on corruption commission, he said he has been a rich man before he became governor. We are cherry picking.
According to the Minister of (mis)Information, all the problems of Nigeria is the PDP but the PDP has been gone over five years now.
We saw in the news recently, stories about you being interested in running for the presidency. Are you serious about it or it's a joke?
Joke? No. We have a pool of people who came up and said that the Presidency would be zoned to the South-West. The APC are also saying that. We in the PDP haven't done our zoning because we will sit and discuss, those are the conditions precedent like the lawyers would tell you. There would be a decision, if it is zoned to the South West, then I'm eligible and that's why I said "why not?" I have seen the top of the mountain in this country and I have seen the bottom of the valley. I have seen the existential lawlessness that is percolating all the fabric of our nation. I have been to every part of this country and that perception in divisive. Yes, we may be different, but that's our strength. If you look at the culture from Sokoto down to Calabar, or from Lagos to Maiduguri, or from the Delta to Jigawa we have our differences and that is our strength but we have turned it to enmity. So, if it comes here I will run. But look at the state of the country now, can we be talking about 2023 general election? We must survive first. We must get there in peace. I was happy when I read sometime ago about the Chairman of INEC. I was extremely proud of that statement he made and he's my brother I'm congratulating him that he has listened now. He said that the next election would be backed up electronically. That is the greatest news I have heard. So, those who have been manipulating results and telling them I'm Emperor, carry bullion van to do what? When British people did their election, that same night we had the results. French people they did their election, by 9pm that night, the loser had congratulated the winner but in Nigeria, we are in court. Even the smallest election you go to the Supreme Court. Eventually, it is the Supreme Court that now elects who is Governor and the rest.
Is that how it's done? Let the will of the people prevail, otherwise, someday they would take you out for questioning. We have messed up. We have pushed our people into the debris of filth for too long. You can see, feel and touch the tension in our people.
But if you were to come into power, do you have a plan to save Nigeria or do better. What is your plan?
The most important thing in Nigeria today is to tell all sides to back off; shut all these divisive tendencies. We can even make a law against someone going to deride a tribe calling them slaves and all that.
Then number two, for me, the states as they exist would copy the American system. Let's execute the constitutional report that we delivered because that was the first time as a civilian administration that we started a constitutional conference and it was successfully completed. Let them open that and start to discuss. Now it's in the National Assembly. I hope they will have the nerves and guts to thoroughly look at it and put it forward because it includes how to restructure and rearrange Nigeria for the betterment of the people.
The electioneering procedure, like I said, needs to be changed. Then, no child in Nigeria would be thrown out of school because education makes people easy to rule but difficult to enslave. That is the most powerful tool that every child born by a Nigerian must be given, that opportunity to go to school. It's not negotiable.
Then all the major resources in various states; some would have oil, some would have other resources. There is no part of this country that God has not endowed with one resource or the other but everybody is waiting for that oil to come. And you better believe me, by the year 2030, there would be no production of petrol engines anymore. What do you do with your oil? In fact, with the Coronavirus now, factories have shut down. Cost of petrol has gone down. When it comes to single digits, where are we going to have money? Are we preparing? How would states pay salaries? How would the federal government fund anything they are doing? Are we thinking of that? And 2030 is just around the corner. When we were talking about 2020 it seemed like it was far but we're here now. So if people don't demand for crude oil to make petrol, if there is no end product to use the petrol, who is going to buy it? They are using electric cars and we don't even have electricity in our homes. Can you see the disaster ahead? In less than ten years, we'd be here. I would be too old by that time but that is why I said I would like to be part of the group that will light the ways for the future generations.
So in your opinion, is the PDP performing it's role as an opposition properly now?
There is no association anywhere in the world that would not have their problems. The ability of the members to resolve the problems is the quality measure for that party. We have our problems. We have a constitution, we have a culture of doing things and as a Yoruba man, from our culture, we don't go to the public to address the issues of our families. Yes we have problems but it is the responsibility of the few remaining elders and those who joined to call a meeting and resolve our crisis. When you have been in power, you take too many things for granted if you're a foolish man. All of a sudden you hit a bump. You put the aircraft on autopilot and all of a sudden you hit a bad cloud, if you survive it, you know you'd be wiser.
Our party too is not where we expect it to be but we should appreciate it that there is a problem. It is bad if you don't appreciate that you have a problem.
The governor of Oyo today, his mode of operation is very civilised. He knows that he can't be there forever but let it be known that while he was on the saddle, he was able to pull people together to strengthen the party and pull it on.
And I said in the last meeting we had in Ibadan, that there was a time someone was trying to drive everybody away from the party saying they should let only young people handle it. And I told him about the folklore that I learnt in Primary school. That there was a time in a village all the young people decided to kill their fathers so they can take over and they all did except one person. He kept his own father inside the roof. Now, a devil with seven heads entered the village then the youths didn't know what to do. They tried their best but there was no solution. That one said let me go home. Then, he went home and consulted his father. On narrating the problem to the father, he said, this is not new. It has happened before. When it happened, this was how we tackled it. He now went back to his colleagues and said look let's do this and they did it and the problem was solved. Then they said, 'ah how did you know?'
That is why we say in Yoruba land that where an elder is seated, even if a child climbs a five storey building, he still won't see what the elder is seeing. There is no way a child can have more rags than the elder no matter how many clothes he has. That's our traditional way of managing ourselves. Two heads are always better than one. That is the concept of operation the young man is now projecting and I am sure he will go a long way.
I cannot as a founding member of the PDP, go to the market and start complaining about the party. All is not well but it is not out of control for us to come back to the way we used to do it.
But do you think the party still has enough time between now and 2023 to put its house in order?
Yes it does because 24 hours in politics is a long time. Now we're still in 2020 and we still have 2021 full, 2022 full then 2023. I repeat, 24 hours in politics is a long time. We don't even know who is going to be alive at that time. Let's solve the immediate problems. Let us get the platform called PDP stabilised and it's a tripod. A three-legged body is a stable platform. I'm talking now as an engineer. A three-legged body is a stable platform, once you remove one leg, it will wobble. Justice, Fairness and Equity, three-legged platform. When you start to do it your way as against what is stated in the constitution, you're looking for trouble.
Have you discussed your presidential ambition with Chief Obasanjo and what did he say?
No! When the time comes. I tell you what happened. Baba said he saw the TVC interview on his way out at the airport. That was the first time he heard because the TVC people came here and I said why not. If the put it to the South-West, we must get the best of the hands here. If he (Tinubu) is going to come out, I will fight him. It's not a matter of how much you've stolen in your pocket but it is the quality of your service. So baba was telling me he saw my comments on TV and there is nothing wrong in that. But I have not discussed outside our group. The press has been asking and I told them the same thing. We don't rush to eat hot soup and it's slowly but surely that a snail climbs a tree and he would get there despite not having arms or legs. We'd get there.