Everything Everywhere All At Once has cemented its status as the Oscars frontrunner after several big wins at the Screen Actors Guild (SAG) Awards.
The multiverse adventure won best film cast at the ceremony, while several of its stars were individually recognised.
Michelle Yeoh was named best actress, beating frontrunner Cate Blanchett.
"This is not just for me, it's for every little girl who looks like me," Yeoh said in her emotional acceptance speech.
Her co-star Ke Huy Quan became the first Asian winner of best supporting actor, while there was a shock win for his co-star Jamie Lee Curtis in the supporting actress category.
Everything Everywhere All At Once follows a laundrette owner – played by Yeoh – who must tap into different versions of herself from the multiverse in order to save the world.
The sci-fi adventure's victory gives it significant momentum ahead of the Oscars on 12 March, and indicates it is the clear frontrunner to win best picture. Its four SAG awards are the most ever won by single film.
There was only one winner in SAG's film acting categories who was not from Everything Everywhere All At Once – Brendan Fraser was named best actor for his performance in The Whale.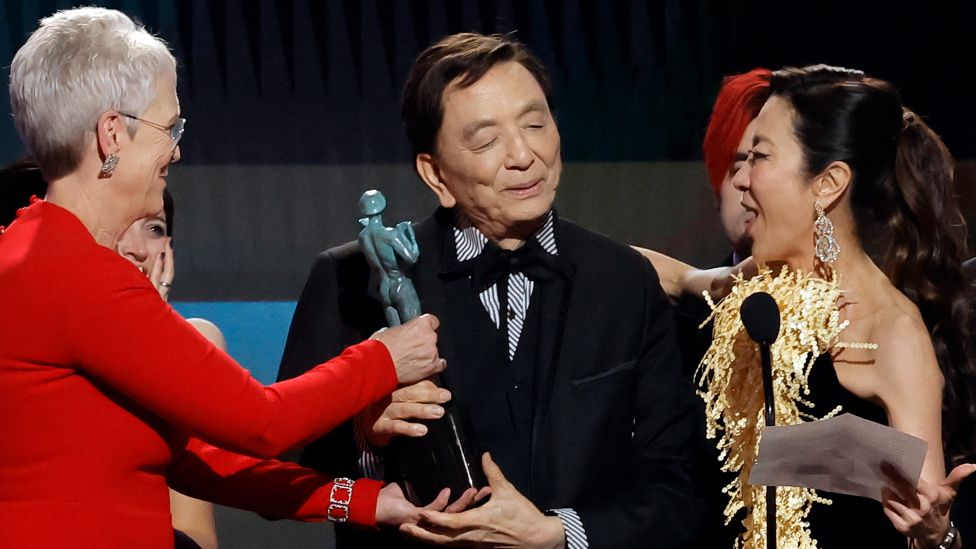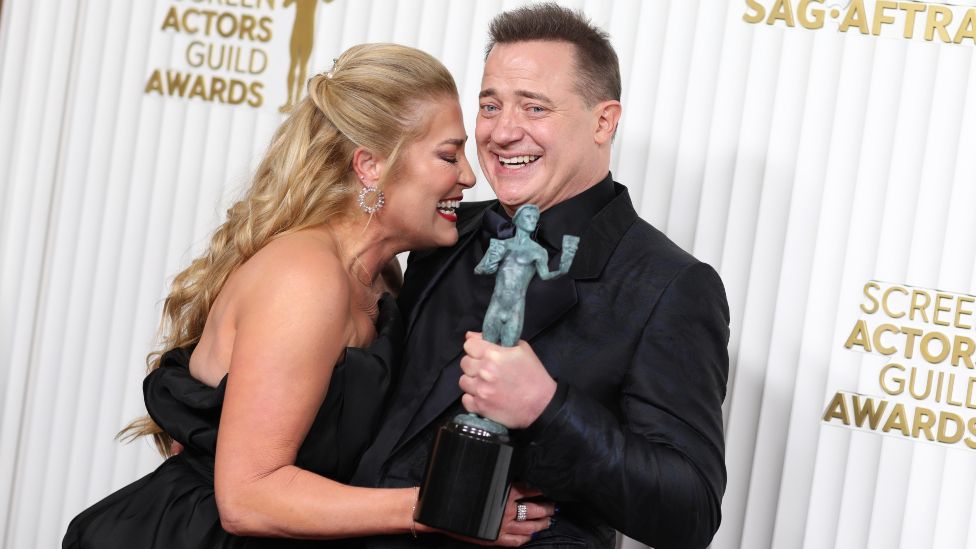 In her speech, Yeoh told the audience – which was largely made up of fellow actors – that "we're here because we love what we do, we will never stop doing what we do".
"Thank you for giving me a seat at the table, because so many of us need this, we want to be seen, we want to be heard, and tonight you have shown us that it is possible," she said.
The prize for best film cast is seen as the top honour at the SAG Awards in the absence of a best picture category. Winners at the annual ceremony, held in Los Angeles, are voted for by other actors.
Veteran actor James Hong, 94, who plays Yeoh's father in Everything Everywhere, gave a comical acceptance speech, in which he vowed to return to the ceremony when he was 100 years old.
"I got my first SAG card 70 years ago. Back in those days… producers said that Asians were not good enough and they are not box office – but look at us now," he said to cheers from the audience.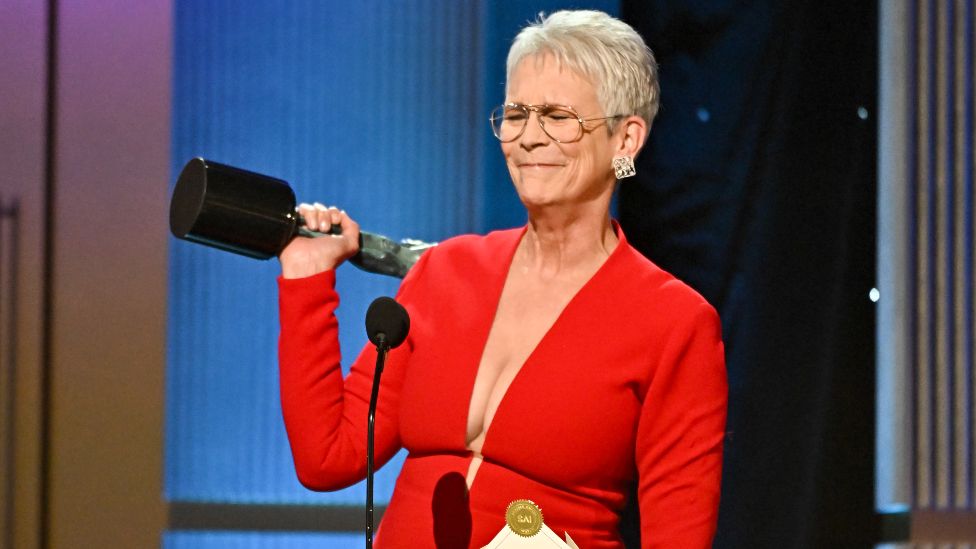 In her own acceptance speech, Curtis said: "I love acting, I love the job we get to do, I love being a part of a crew, part of a cast, I love what we do with each other, it's such a beautiful job… what a dream."
Curtis, who is the daughter of two actors, Janet Leigh and Tony Curtis, also made light of the recent "nepo baby" online debate about stars who arguably had an advantage in their careers because they have famous parents.
"I know you look at me and think 'well, nepo baby, that's why she's there', and I get it," Curtis said. "But the truth of the matter is, I'm 64 years old and this is just amazing." The actress had also referred to herself as a "nepo baby" earlier in the ceremony.
Her victory, together with that of Kerry Condon at last week's Baftas, casts significant doubt over the supporting actress category ahead of the Oscars. Wakanda Forever's Angela Bassett had previously been considered the most likely winner.
"When I heard that, I quickly realised that this moment no longer belongs to just me. It also belongs to everyone who has asked for change," Quan said as he collected his trophy. "This is a really emotional moment for me."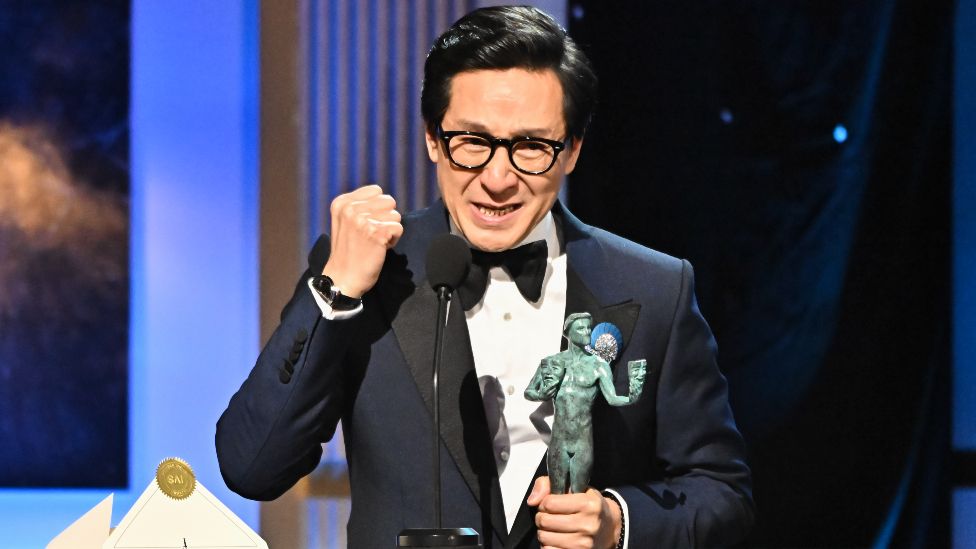 Quan rose to fame as a child star in films such as Indiana Jones and the Temple of Doom, but he took a break from acting later in his career until returning with Everything Everywhere All At Once.
"When I stepped away from acting, it's because there were so few opportunities," he said. "And yet here we are tonight, the landscape looks so different now than before. Thank you to everyone who contributed to these changes."
Brendan Fraser continues comeback
Elsewhere, Fraser was named best actor for his performance in The Whale, beating Austin Butler, the young actor who has triumphed at several other precursor ceremonies for his performance as Elvis Presley in Baz Luhrmann's biopic.
"I will treasure this but never more than what I used to keep in my wallet, which was my SAG card, that I earned in 1991," Fraser recalled, becoming visibly emotional. "It made me feel like I belonged. If you told that guy back then, that I'd be standing here right now, I would not have believed you."
He described the role of Charlie, the morbidly obese professor he portrays in The Whale, as "the role of my life".
Fraser's win continues a hugely successful comeback for the actor, who was a box office star at the turn of the millennium with films such as The Mummy and George of the Jungle.
But the 54-year-old then spent several years out of the spotlight, taking on smaller roles as he struggled to recapture his earlier success, until he was cast as the lead in Darren Aronofsky's film.
"I just want you to know, all the actors out there who have gone through that or are going through that, I know how you feel, but believe me, if you just stay in there and put one foot in front of the other, you'll get to where you need to go," Fraser said.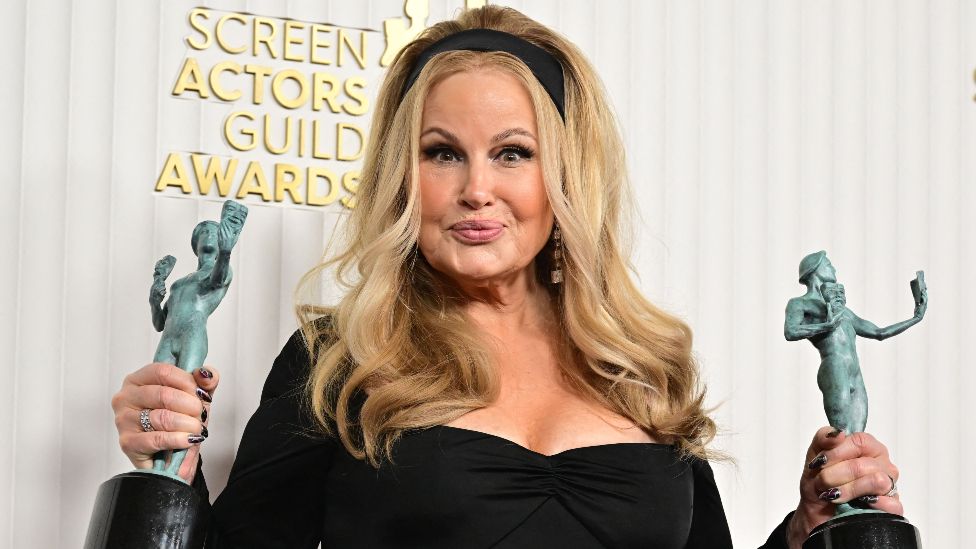 In the TV categories, acting winners included Jessica Chastain (for George & Tammy), Jason Bateman (Ozark), Sam Elliott (1883) and Jean Smart (Hacks).
The top two TV prizes – best drama series and best comedy series – were won by wealth satire The White Lotus and school-based sitcom Abbott Elementary respectively.
The White Lotus star Jennifer Coolidge, who won best actress in a drama series, used her acceptance speech to recount the story of when her usually rule-abiding father let her skip school to attend the Charlie Chaplin film festival.
"He got me out of my first grade class to do it," she said, "and seeing Charlie Chaplin for the first time and having that experience, my love of film, my love of actors, all of that came from my first grade."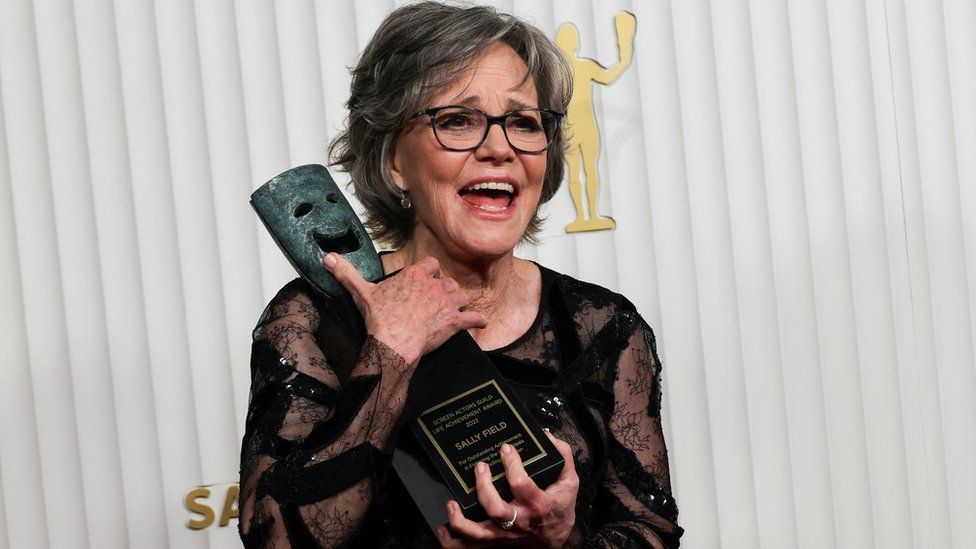 Andrew Garfield presented the lifetime achievement award to Sally Field, who told the crowd: "In all of these almost 60 years there is not a day that I don't feel quietly thrilled to call myself an actor."
Famous faces including Robbie Coltrane, Ray Liotta, James Caan, Dame Olivia Newton John, Irene Cara, Annie Wersching and Dame Angela Lansbury also featured in the show's In Memoriam segment.
The SAG Awards and the Bafta Film Awards are both seen as Oscar indicators – but this year, none of the major winners overlapped. Last week's Baftas were instead dominated by The Banshees of Inisherin and All Quiet On The Western Front.
It leaves the awards race wide open ahead of the Oscars, with no actor this year having won their category at the Golden Globes, Critics Choice, SAG Awards and Baftas.
Source: BBC News