Germany has put a stop to a key Russian gas pipeline following Vladimir Putin's orders to send troops into Ukraine.
On Monday the Russian president recognised two breakaway Ukrainian regions as independent states and ordered Russian troops to deploy to both.
Western nations largely see the action as a pretext for a wider invasion.
In response, Germany halted approval of the Nord Stream 2 pipeline and other Western nations issued sanctions.
Sanctions can take various forms – the term can refer to many actions used by one country to harm another, usually to deter aggressive actions or breaches of international law.
But following Mr Putin's order to send troops to the rebel-held Ukrainian regions of Donetsk and Luhansk, Germany announced it was suspending the process of giving the pipeline between it and Russia an operating licence – effectively stopping the project until further notice.
The move is notable as Russia supplies Europe with about 40% of its gas, sourced from vast supplies in Russia's east.
"This is a morally, politically and practically correct step in the current circumstances," Ukrainian Foreign Minister Dmytro Kuleba wrote, welcoming the decision. "True leadership means tough decisions in difficult times. Germany's move proves just that."


As European ministers and officials pored over sanctions plans today, there was a sudden bolt from Berlin.
Olaf Scholz's deliberate ambiguity about the future of Nord Stream 2 meant his announcement this morning took many by surprise. Even so, there's also a view that the move was long overdue.
I remember being in a room with Poland's Prime Minister Mateusz Morawiecki in December, where he again stressed the project was a "major mistake." The gas pipeline wasn't yet operational, of course, and the EU's been seeking supplies elsewhere. Nevertheless, it raises big questions about European energy security.
As for the EU's sanctions plans against Russia, it's promising to target Russian lawmakers, banks that are financing the Russian military as well as the ability of the Russian state to access the bloc's financial markets. "Additional measures" are also, we're told, ready to go if needed.
But the tougher the measures get, the harder they could become to agree.

It is among a number of measures taken by Western powers following Mr Putin's announcement.
The United States banned American people and companies from conducting any trade or investment in the rebel-held regions, and promised more action to follow.
The EU also unanimously agreed its first wave of measures on Tuesday, which includes targeting all members of Russia's parliament who approved the decision. Russian banks are also hit by the new measures, as is Russia's access to EU financial markets.
"This package of sanctions… will hurt Russia, and it will hurt a lot," EU Foreign Policy chief Josep Borrell said.
The Western sanctions announced on Tuesday fall short of what had been threatened in the event of invasion. There had been speculation that Russia could have faced being cut off from the global banking system, denied access to the dollar, or even face import or export restrictions.
Media caption,
Boris Johnson says Russian actions in Ukraine are a "renewed invasion of that country"
The White House made clearthat its initial sanctions "are separate from and would be in addition to the swift and severe economic measures" it has prepared "should Russia further invade Ukraine". And the UK's Defence Minister Ben Wallace said there were plenty of more sanctions "in the tank" to be used if needed.
Poland's Prime Minister Mateusz Morawiecki welcomed the blocking of Nord Stream 2 – which his country has long opposed – but said he expects much more. He had earlier said that sanctions must "be sufficiently painful and prevent Vladimir Putin from taking additional steps".
Poland's President Andrzej Duda also called for "serious sanctions".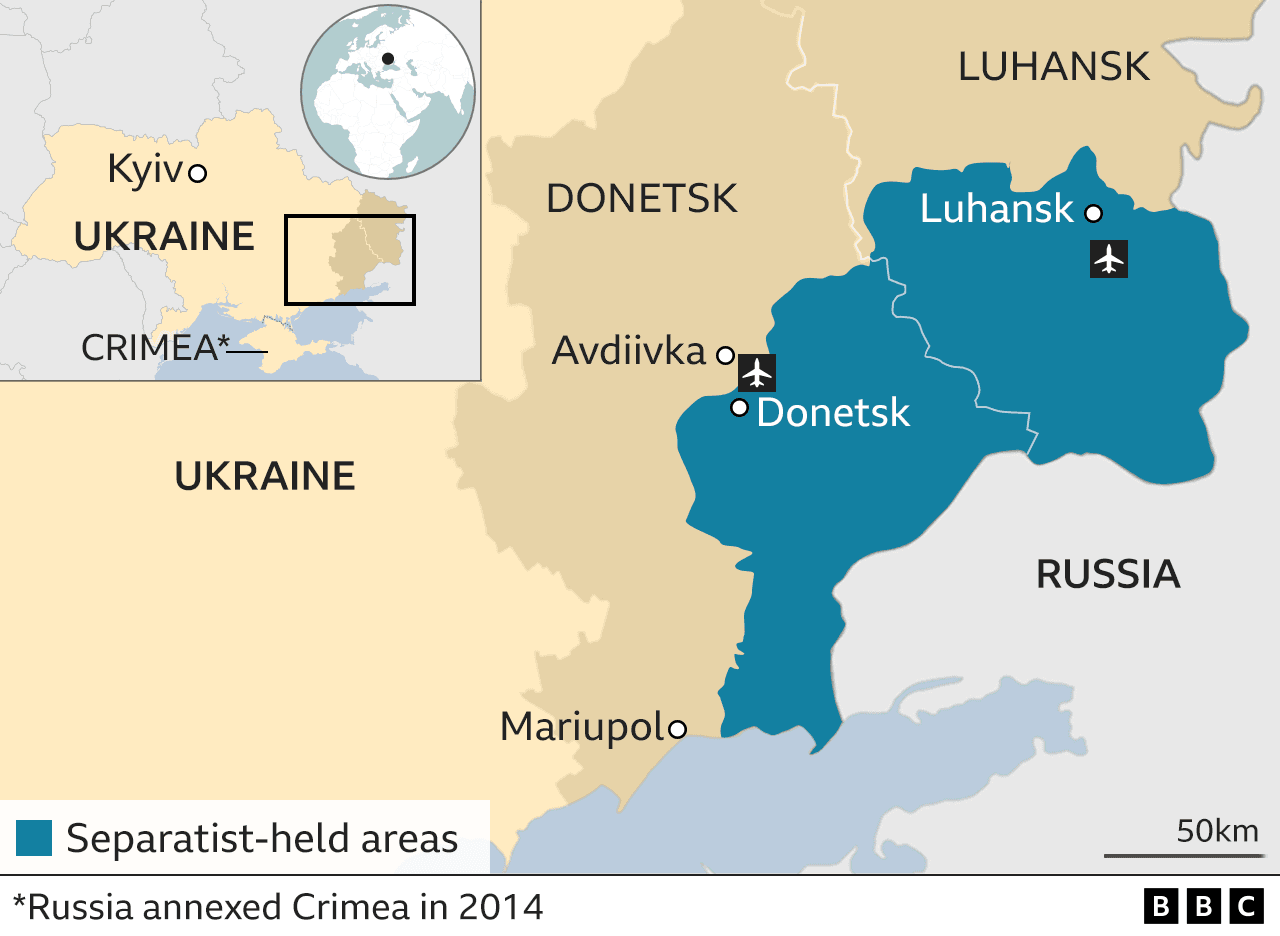 In the UK, following Prime Minister Boris Johnson's announcement of initial sanctions, senior Conservative MP Iain Duncan Smith said Russia needs to be hit with sanctions "hard and now" – and asked if the UK was prepared to take further action.
In response, the prime minister said: "We are hitting [Russia] hard now and will hit them harder in the future."
"We will continue to punish Russia," the PM added.
There has as yet been no evidence of Russian troops crossing the border into the rebel-held areas of east Ukraine, despite Mr Putin's order to conduct what he calls peacekeeping functions.
Russian Deputy Foreign Minister Andrei Rudenko told the AFP news agency that Russia was not sending troops in "for now".
"No one is planning to send anything anywhere. If there is a threat, then we will provide assistance in accordance with the ratified treaties," he said.
Source: BBC News