There is apprehension at the premises and surroundings of the Redeemed Christian Church of God located at the Lagos-Ibadan expressway on Monday as a gas plant exploded.
No one was able to say in particular the cause of the explosion, tongues of flames were seen going up even as it appeared that some devices were exploding within the premises.
From the main Highway, the sound of the explosion could be heard while fire was seen going up.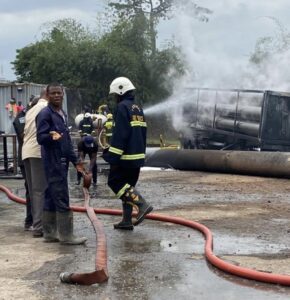 As the fire raged, fire was seen affecting the police post located near the expansive worship centre.
Officials of the Ogun State Fire Service later arrived to put an end to the fire.
Watch one of the first videos emanating from the scene :
Details later…