By Halimah Olamide
Prominent Nigerian human rights activist and lawyer Femi Falana on Tuesday stepped into the controversies surrounding the death of popular singer Oladimeji Ilerioluwa Aloba popularly called Mohbad.
Falana Steps Into Mohbad's Death; Demands Coroner's Inquest
Falana Steps Into Mohbad's Death; Demands Coroner's Inquest
This request was contained in a letter to the Chief Coroner, High Court of Lagos State, on Monday.
The letter signed by his daughter, Folakemi Falana, described the singer's death as "very tragic" and "mysterious".
Sharing the letter via her Instagram account, Falana said, "Mohbad's death stings because despite the fact that he wasn't on my radar and I never met him or knew him personally, I heard he was trying to leave his Label.
"Some of his friends reached out to me months ago for advice especially as they knew I had helped other artists negotiate leaving their record labels.
"I told them I was happy to help and they could put us in touch but they came back to me saying they were handling it. I genuinely thought they had come to an agreement. So imagine my shock and horror finding out he was being terribly harassed and living in fear till his last day.
"After speaking to some of his friends and relatives, I've written to the Chief Coroner of Lagos state to conduct a coroner's inquest. The letter was received and acknowledged today. We will continue to apply pressure till we get answers.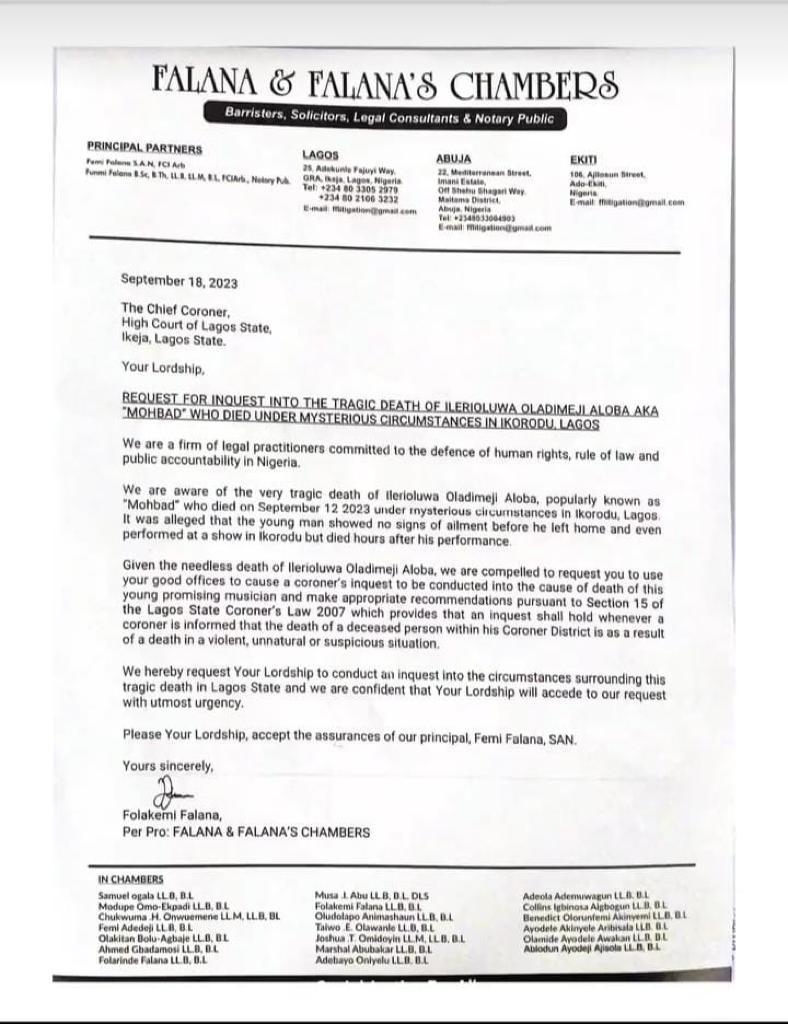 "I know we can't bring him back but his loved ones deserve to know what happened to him. Mohbad certainly deserves justice."
Protests are mounting across the country over the death of the singer with many calling out his former record label's boss Naira Marley and his associates.
Prominent among the associates of Naira Marley being fingered is Sam Larry who was alleged to have carried Out series of attacks on him since he left the record label.
The Lagos State Governor Babajide Sanwo-Olu on Tuesday sent a delegation led by his deputy Obafemi Hamzat to
Commiserate with the family of the singer.
Hamzat said the government would ensure that Justice is done in the matter.
The statement government had earlier said the Department of State Services should join the police which has already set up a probe panel to unravel the matter.