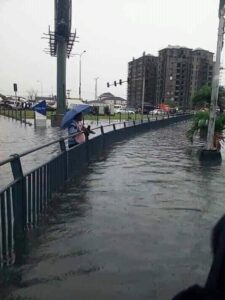 Maverick singer, Habeeb Okikiola popularly called Portable has mocked residents of Lekki, Lagos over the flood that constantly threatens their comfort.
Lekki, an upscale Lagos residential and corporate organization settlement, is always under the siege of flood especially during the rainy seasons.
The singer took to his Instagram page on Friday to say that anyone aiming to live in Lekki must be prepared to face the challenges posed by flood.
He said rather than spend huge amounts to build a house in Lekki, he would rather buy acres of land and build mansions in other less troubled areas of Lagos or it's environs.
In what appears as a concern for the ecosystem, Portable said the massive constructions in places such as Lekki has violated the natural habitat adding that natural habitat for fishing and other eco-activities have been taken over by property developers.
He said where Lagos is supposed to be breeding fish, a good source of protein, have all been taken over by housing estates.