•Report by Kamil Opeyemi
The African Union (AU) and ECOWAS observation missions deployed to monitor the 2023 general elections in Nigeria have made recommendations for improvement in the country's electoral process.
The observation missions made this known during separate Preliminary Briefings on the voting process on Monday in Abuja.
They noted that Nigeria's democracy is critical to the stability of the sub-region in particular and that of the continent in general.
Former President of Kenya Uhuru Kenyatta, who is the Leader of the AU Mission, and Former President of Sierra Leone, Ernest Koroma, Leader of the ECOWAS Mission, read out the recommendations for improvement in future elections.
This is also as the mission noted that the Feb. 25 Presidential and National Assembly elections saw an improvement from past elections.
Reading out the AU Observation Mission's statement, Kenyatta urged the INEC to improve on logistics operations and review the allocation of voters per polling unit to ensure everyone cast their ballots within the stipulated time.
The mission urged "the government of Nigeria to uphold peace and the rule of law throughout the electoral process.
"To the Independent National Electoral Commission, review the electoral logistics operation strategy to ensure timely deployment of election materials and sufficient capacity building.
"Review voting time with a view to increasing it beyond the currently designated six hours (8.30 a.m to 2.30 p.m).
"It is anticipated that such amendments will encourage greater participation.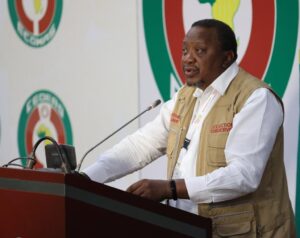 "Consider necessary measures to allow for voting for election officials and essential workers that may be on duty during the polling days.
"Review the allocation of voters per polling unit as a way to ensure that it is equitable, strengthening measures to enhance accessibility to polling units especially for people that require special assistance.
"Sustain efforts to regularly communicate with stakeholders throughout the electoral process."
Also reading the recommendations of the ECOWAS Observation Mission, Koroma said that the objective of the mission was to promote peaceful, democratic, and credible polls.
"The mission, in the meantime, wishes to make the following recommendations:
"To intensify and increase the frequency of communication on developments regarding the electoral process to the general public and promptly share information in order to discourage misinformation through social media and other means.
"Ensure ongoing training of technical and ad-hoc staff to professionally handle and resolve issues related to the use of BVAS machines.
"Review the system of uploading results in real time and enhance communication on the voting and collation process," Koroma said.
The AU and ECOWAS observation missions noted that until the conclusion of the process with announcement of results by INEC, it would continue to observe the process.
The mission, however, urged stakeholders and Nigerians to remain peaceful and ensure a peaceful transition to the next dispensation.
Former President of Malawi, Joyce Banda, led the National Democratic Institute (NDI) and the International Republican Institute (IRI) Observation Group to the briefing.