A deserted major road in Ekiti Saturday morningThe much awaited governorship election of Ekiti State, in the South-West of Nigeria is taking place today as voters go to the poll amidst tension across the state.
For today's election, 16 candidates registered with the Independent National Electoral Commission to contest in the election.
Apart from the All Progressive Congress, the Peoples Democratic Party and the Social Democratic Party, other parties taking part in today's election are Accord Party, African Action Congress, African Democratic Congress, Action Democratic Party, All Progressives Grand Alliance, Allied Peoples Movement, Action Peoples Party, Labour Party, New Nigeria People's Party, National Rescue Movement, Peoples Redemption Party, Young Progressives Party and Zenith Labour Party.
Apart from Oyebanji, Oni and Kolawole, other candidates are Reuben Famuyibo of Accord (A), Ajagunigbale Olajide of African Action Congress (AAC), Oluwole Oluyede of the African Democratic Congress (ADC), Elebute-Halle Kemi of Action Democratic Party (ADP) and Benjamin Obidoyin of the All Progressives Grand Alliance (APGA).
Also contesting are Fagbemi Adegbenro of Allied Peoples Movement (APM), Christiana Olatawura of All People's Party (APP), Daramola Olugbenga Onile of Labour Party (LP), Fatomilola Oladosu of New Nigeria Peoples Party (NNPP) and Iyaniwura Ifedayo of the National Rescue Movement (NRM).
Also in the race are Agboola Ben of the Peoples Redemption Party, Adebowale Oluranti Ajayi of Young Progressives Party (YPP) and Adeolu Akinyemi of Zenith Labour Party (ZLP).
The Independent National Electoral Commission said it is set to conduct a credible poll.
A total of 749,065 voters will elect the next governor of the state as the figure of registered voters who had, as at Monday, collected their permanent voter cards from the commission. There are 988,923 registered voters in the state.
No one with the PVC will be allowed near the polling units.
There are 2,445 Polling Units (PUs) in 177 Registration Areas, in three Senatorial Districts , six Federal Constituencies and 26 State Constituencies across the states.
Streets of Ekiti Deserted 
Streets of Ekiti State are deserted in the early hours of Saturday as residents await electoral officers to arrive the respective polling units and commence the electoral process. With the exception of a few that were seen in front of their houses, most of the streets are deserted from the state capital Ado Ekiti to other parts of the state.
INEC To Test-run Electronic Transfer of Election Results in Ekiti
The Independent National Electoral Commission has said that it is set to test-run its electronic transmission of election results with today's election in Ekiti State.
The newly signed Electoral The Act empowers the commission to transmit election results in a way it determines.
Section 50 of the Act reads, "Subject to section 63 of this Act, voting at an election and transmission of results under this Act shall be in accordance with the procedure determined by the Commission."
Mr. Rotimi Oyekanmi, the Chief Press Secretary to the Chairman of INEC, Prof Mahmood Yakubu, confirmed that the results of today's poll would be transmitted electronically.
Impressive Turnout as Voters Troop to Polling Units
There seems to be a very impressive turnout in Ekiti State as voters are already trooping out to check their names at their respective polling units across the state. As early as 7:30am, NPO Reports noticed would be voters in their scores already moving out to check their name on the INEC voters's lists for the process of accreditations.
This process will be followed by actually voting.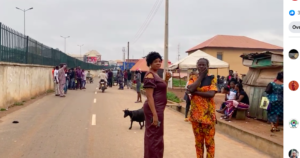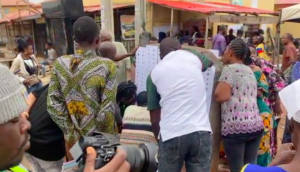 The candidate of the All Progressive Congress Biodun Oyebanji has voted in the ongoing governorship election in Ekiti.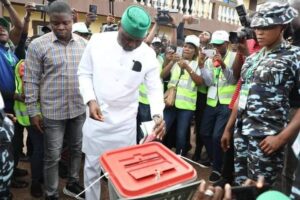 Governor Kayode Fayemi of Ekiti has just voted in the ongoing exercise in the state.
The governor voted at exactly 9:47am
After voting, the Governor said it is too early in the day to make an assessment of the process.
"If everything goes this way, we will give INEC a pass mark. But its pretty early to say any
He said the machine did not recognize his PVC initially.
"And this is a PVC have been using since the beginning of the process," he said