Staff partied in Downing Street while the rest of the country was in lockdown with the approval of their bosses, according to Sue Gray's report.
The senior civil servant said many events "should not have been allowed" and the PM and his officials "must bear responsibility for this culture".
The report highlights excessive drinking, with staff being sick, and abuse of cleaning and security staff.
Warnings about parties breaking Covid rules were ignored, the report says.
Prime Minister Boris Johnson told MPs he took "full responsibility for everything that took place on my watch".
He said he had been "humbled by the whole experience" and had learned lessons.
But Labour leader Sir Keir Starmer – who is being investigated by police over his own lockdown event – called on Tory MPs to tell Mr Johnson "the game is up" and that it is "time to pack his bags".
In her 37-page report, Ms Gray found:
Political and official leadership must bear responsibility for the culture at No 10
Staff partied – some until after 4am – on the eve of Prince Philip's funeral
At another party, in June 2020, there was "excessive alcohol consumption by some individuals. One individual was sick. There was a minor altercation between two other individuals"
A No 10 official sent a message referring to "drunkenness" and advising staff to leave No 10 via the back exit after a December 2020 Christmas quiz to avoid press photographers
"Multiple examples of a lack of respect and poor treatment of security and cleaning staff"
The PM's key aide Martin Reynolds was urged to cancel a "bring your own booze" party in the Downing Street garden in May 2020, as it posed "somewhat of a comms risk".
An unnamed special adviser also told Mr Reynolds via WhatsApp it would be "helpful" if people avoided "walking around waving bottles of wine etc" ahead of the May 2020 event, as it was taking place immediately after a televised Covid press conference.
Mr Reynolds later told an unnamed adviser "we seem to have got away with" the party. He has since left Downing Street, with the government saying he had returned to his job at the Foreign Office.



A dictionary definition of "responsibility" is: "The state or fact of being answerable, or accountable for something within one's power, control, or management."
So when the prime minister declared that he had taken "ultimate responsibility" for the events in Downing Street some of the more sceptical of his MPs will have wondered if his subsequent words lived up to that billing.
He said he had not seen the empty bottle-filled bins, the altercation, the vomiting. And even when he was present and raising a glass at some of the controversial events, he was merely showing "leadership" – wishing departing staff well.
He had left before any parties had really got started and had "no knowledge of subsequent proceedings because I simply wasn't there".
Voters will not be able to give their verdict on his veracity at a general election for quite some time.
It's his own MPs who will decide the prime minister's future. The judgment they must reach is whether this version of events is credible – or credible enough – to move on from 'Partygate'.


Mr Johnson joined five special advisers in a meeting with "food and alcohol" in his Downing Street flat on the evening of the announcement of Dominic Cummings' departure in November 2020, Sue Gray found.
The senior civil servant conceded that she collected "limited" information because she had only begun gathering details before the Metropolitan Police launched an inquiry, and did not return to it.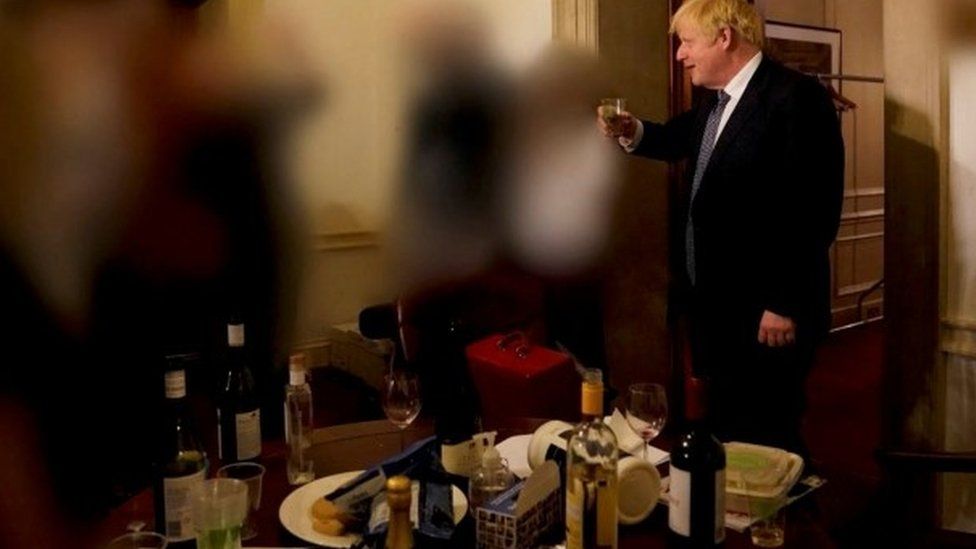 In the conclusion to her report, Ms Gray said: "Many of these events should not have been allowed to happen.
"It is also the case that some of the more junior civil servants believed that their involvement in some of these events was permitted given the attendance of senior leaders.
"The senior leadership at the centre, both political and official, must bear responsibility for this culture."
In total, 83 people have been fined by the Metropolitan Police for breaking lockdown laws in Downing Street.
These include Mr Johnson, his wife Carrie and Chancellor Rishi Sunak, who received Fixed Penalty Notices for attending the PM's birthday party in June 2020, which is among 16 events covered by the Gray report.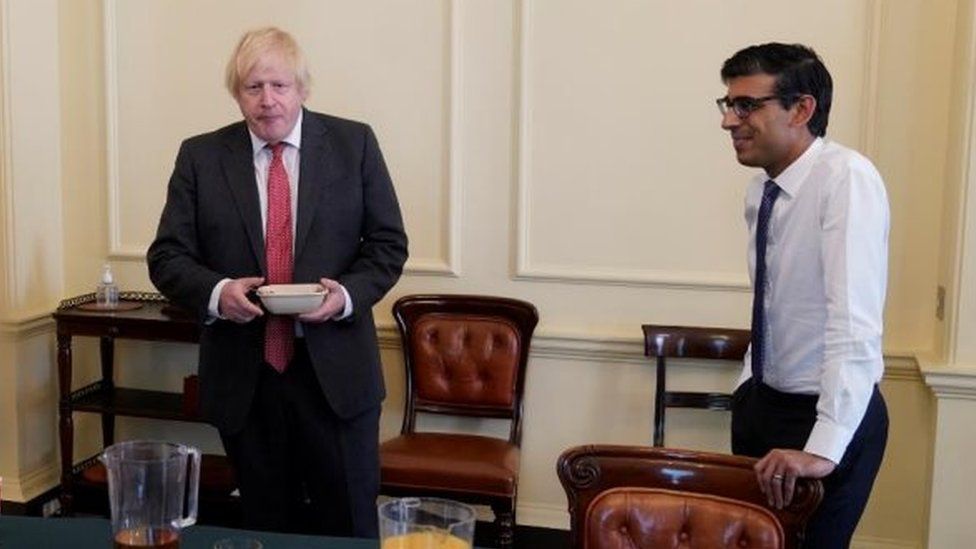 Mr Johnson told MPs he had already brought in the senior management changes the Gray report recommends.
He denied lying to MPs over lockdown parties but admitted it was not correct when he told Parliament that the rules had been followed at all times.
The PM is facing an investigation by a committee of MPs into claims he knowingly misled Parliament, something which would normally result in resignation.
He told MPs: "I am happy to set on the record now that when I said – I came to this House and said in all sincerity – the rules and guidance had been followed at all times, it was what I believed to be true.
"It was certainly the case when I was present at gatherings to wish staff farewell, and the House will note that my attendance at these moments – brief as it was – has not been found to be outside the rules."
He added that he had been "shocked" and "appalled" by some of Ms Gray's findings, especially over the treatment of security and cleaning staff, but it was now time to "move on".
He said later at a press conference that he had personally apologised to Downing Street cleaners and custodians for the "utterly unacceptable" behaviour they had been subjected to.
Sir Keir Starmer – who has said he will resign if he is fined by police over a lockdown event – said the Gray report "laid bare the rot" in No 10 and showed how people in No 10 had "treated the sacrifice of the British people with utter contempt".
SNP Westminster leader Ian Blackford branded the report "damning" and called the prime minister to resign for "orchestrating" the scenes in Downing Street.
Lib Dem leader Sir Ed Davey said: "Any other PM would be forced to resign by a report as damaging as this, yet still Conservative MPs defend Johnson and allow him to cling on."
The prime minister will later face the Tory MPs who will ultimately decide his fate at a private meeting in Parliament.
Senior backbencher Tobias Ellwood, a prominent critic of the PM, asked fellow Tories "are you willing day in and day out to defend this behaviour publicly?", adding: "Can we win the general election on this current trajectory?"
Source: BBC News