2023: APC Announces New Dates for Primaries https://nporeports.com/2023-apc-announces-new-dates-for-primaries/
The rulling party in the country,All Progressives Congress (APC) National Working Committee (NWC) has announced new dates for the conduct of it's primaries into various offices.
This was disclosed in a circular signed by the National Organizing Secretary of the party,HE Sulaiman Muhammad Arugungu and released on Tuesday night.
According to the circular, aspirants vying for houses of assembly will be screened on May 13th instead of 12th that was earlier scheduled while the Governorship,House of Representatives,Senate and President will have their screening on 14th.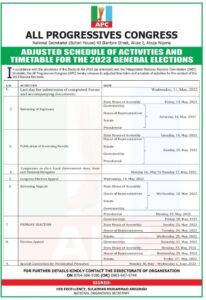 However,the primary election for Governorship which was scheduled for 18th will now be held on 20th while the Houses of assembly primaries will come up on May 22nd instead of 20th.
House of Representatives and Senate will be held on 24th and 25th respectively while the special convention for presidential primaries will comes up on May 30th to June 1st 2022.
Additionally, the congresses to elect Local Government, State and National delegates will now be held from May 16th to May 17th