There is glitz in the air in Qatar, the Middle East country hosting the World Cup for 2022. Apart from participating countries in their splendid colours artistes slated for performances at the opening ceremony are setting the stage for specular shows which are sending fans into ecstacy.
Morgan Freeman, globally acclaimed actor, made an appearance while Sheikh Tamim bin Hamad Al Thani, the Qatari leader was seen signing on a jersey.
He gave a welcome speech at the ceremony which elicited loud applause.
Details later…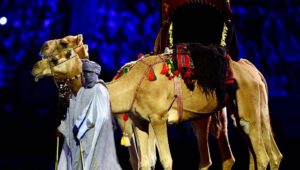 READ ALSO: