NPO Reports the miserable lives residents are subjected to in the Shimawa area of Ogun State, a community with more than 30 residential estates which bore a lot of promises for good living but now nightmare to property and business owners

Reports by Omolade Durojaiye
Good roads, it is believed, are the beauty of any community. If the residents of Shimawa community in Ogun state would tell you, they would say without hesitation that there is nothing beautiful about their community again and again.
Shimawa community road was first majorly constructed between 2009 and 2010 when the Redeem Christian Church of God opened up the route to the major highway and the construction was done so well that this brought a great turnaround to the community.
Before then, Shimawa used to be a very small village from where the expansion has grown into a community of housing estates numbering more than 30.
But while residents are supposed to be jubilant over the expansion of their area, the deplorable situation of the roads network have soured what could have been the joy of the residents.
This took NPO Reports correspondent to the community to see and feel the pains inflicted on persons, properties, businesses in the area. Humans and businesses have all borne the burdens of this situation.
The road from Loto down to Shimawa is tarred and appreciably motorable even though it has some one bad spots. However, from the entrance into Shimawa community from Loto, you would notice how bad and dusty the road has become with lots of gullies, portholes and poor drainages.
Residents said the road had been in more worrisome conditions that it was by early in November when the NPO Reports correspondent visited. Because the rains had stopped for some time, it was said that residents experienced greater crisis when it rained with vehicles getting stuck in many areas.
Shimawa road happens to be a shortcut and an alternative route to Lagos-Ibadan express road and also the Shagamu-Ikorodu expressway.
The Shimawa road is said to be 10km in length.
One of the reasons adduced to the deplorable state of the roads is the high flow of vehicular movements especially heavy trucks on the route.
Residents also said poor drainage system and with virtually no maintenance plans by the Ogun State Government has added to the rate of the damage of the road.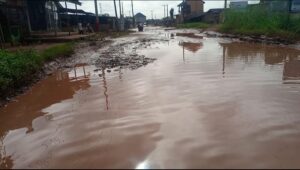 With such state, lives are endangered, businesses suffer and properties fail to appreciate. In the face of these are security challenges which are badly aided by the aforementioned issues.
Adrons Homes Property Limited, one of the top real estate companies in the county happens to have a good presence in the community. The company has lots of property investments situated within the community and its environs.
Business owners claim they are running at a loss and majority of residents are moving out of the community as a result of the worsening conditions.
Because there is still a vast area of arable land, a huge farming activities are happening in the area as well. However, farm yields are said to get rotten and wasted as farm owners are unable to move their goods out and have been discouraged all because of the bad road.
The social life of residents of the community have been restricted and been on a low ebb.
Car owners are discouraged from going out with their cars and can hardly host events as well as friends and families because of the stress they go through either in or out of the community.
As if these above woes are not enough, power supply to the community is not encouraging.
Mr. Niyi Taiwo, one of the leaders within the community shared with the NPO Reports correspondent an in-depth insight into life in Shimawa community.
Taiwo, in his interaction with the NPO Reports, confirmed how businesses, social lives and security are affected.
"Yes, the Redeem Church opened it up and did a good road but that road is bad today," said Mr. Taiwo
Blaming the heavy traffic of trucks and tankers, he said, "the vehicular movement on the two roads are always very heavy, the Shagamu -Ikorodu road that is where NNPC Mosimi is situated. A lot of trucks usually pass through that road, not until recently during this regime that they started repairing it.
There are three major roads that enter into Shimawa. There is the one from Mosimi "that is Shagamu-Ikorodu road. The second is Emu Oloja to Shimawa which is just about 3 kilometres but that is very bad too.
Even, the trailers can't take that route now let alone cars. The third one, like the Shimawa – Shagamu Road, leads to the international market. It is called High Court Road. We have no fewer than 7 estates on that road. It is very bad. The other road which is the Express- Shimawa Road from the RCCG side is also not good again."
With many residents working in Lagos, lufe has become miserable with security threat and other challenges.
"Yes, the RCCG has done its own part. The community is doing its own part. Adron Homes has even started the Shagamu – Shimawa Road to an extent by putting a very good culvert on both sides of the road to about 10- 15km along that line. But now, we need support from the state government and well-to-do people," Mr. Taiwo told NPO Reports correspondent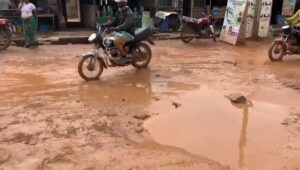 When he was asked how the bad road has endanger lives , security and affected business within the community.
With the bad roads that make movement impossible, criminals take advantage of this to launch attacks.
"Many have been attacked. When driving, you cannot move smoothly or with any appreciable speed," he said
Bad Roads Driving Away Potential Estate Investors – Adron Homes
Mrs. Yemisi Odeyemi, Chief Public Secretary of Adrons Homes Property Limited spoke with NPO correspondent.
For how long has Adron Homes been here to do business?
We have been at Shimawa since 2012. As a matter of fact, this was where we started the real estate development business with one of our first estates here and today we have several other estates here.
As a company, we have tried our best to contribute to the society even regarding the road but I must say, however, it is still not enough.
We do real estate and you know how people are particular about housing. If you want to get a house, the first thing you look at is if there is good road there. That is what determines and it's a contributing factor if you would buy or rent house anywhere.
What have the experience of Adron Homes in getting patronage for your estates?
In our instance here, when we are saying "come buy land," when people come and they see the roads, they drive away as their cars get stuck and next thing they think is "If I buy a house here, how much would I spend fixing my car?"
So, the bad roads have actually affected us as a company.
We would have had much more clients than we do now and you know the more people coming into this community the better it is for the community.
What in specific terms has Adron Homes Put into the community in form of Corporate Social Responsibility?
We have had to grade the road a couple of times since we got here. If we don't have good roads to our estates, people cannot get there.
There are other things we have done to improve the quality of living in Shimawa community. Today, we are here commissioning a police station that helps security of lives and property for the people living here and not just only for our own residents. So, I think we can say we have done quite a lot for Shimawa community.
It's Problematic Running a School Here – School Proprietress, Goldmind Schools, Mrs. Okeowo
How have the bad roads affected running an educational venture in an area like this?
I have been in Shimawa for the past 10 years and I started my school about eight years ago.
I started the school because I had the vision of reaching out to children and helping them to have good future and because of that fact, I decided to get a bus for my school to pick children to school.
But overtime, I saw that if I continue, I would be running at a loss because of the bad road.
We have to repair the bus severally just because of the road. Later, I decided to stop the school bus because I couldn't just continue because of the debt I incurred.
So currently, the school has no bus because of the road.
In fact it's getting worse.
Parents come around to ask a lot of questions about school bus but I cannot afford to continue.
Mr. Sogo Oyetola, a native of the community who also happens to be from one of the Royal families of Shimawa also owns a business.
Sharing concerns of residents, Oyetola
"There is no business that is profitable here at the moment within the community.
"Even, cars can't be taken out due to the bad roads. All my businesses are here, It will take the grace of God for it not to collapse. I have had to cancel and put some on hold because of the road.
"We can't go to Likosi Road because by the time you get to the middle of the road, it is water-lodged. You get stuck.
So, we are using this opportunity to beg our governor to please remember us because they get major votes from us in the area. They should not just always come here for our votes, they should please help us out."
Mr. Muritala, the manager of Anuoluwa Filling Station Shimawa, explained how the bad road has affected sales.
"I have been here for almost 3 years. The filling station was established and opened on March 12, 2019.
"Initially, the road was good and if you were coming from Loto, the road was a bit okay due to the intervention of the Redeemed Church."
Generally, most residents would have been contended with their locality from NPO Reports' observations. Many would have been happy being property owners given the various circumstances that drove many of them there.
However, regrets have overtaken all those sense of contentment. With the grinding hardship in the land, most have gone despair just waiting for 'miracle' to happen perhaps to take them out of this nasty daily experience. But for how long can they wait?