Mr. AbdulMumin Abiola is son of the late businessman, politician and winner of the 1993 aborted presidential election, Late Moshood Kashimawo Olawale Abiola popularly called MKO.
His mother, the late Alhaja Kudirat Abiola, was killed in very gruesome manner on a Lagos street while fighting to get her husband out of the General Sanni Abacha's detention after he had declared himself the winner of the poll.
The deaths of the couple in the course of democratic struggles in Nigeria remain some of the unforgettable tragedies of the era.
Of recent, the MKO family has become part of the topics for debates within the country's current political calculations. While AbdulMumin's sister, Hafsat, has joined forces with Governor Yahaya Bello of Kogi as Director General of his campaign for presidency, the first son of the late MKO, AbdulLateef Kola Abiola, has declared to run for presidency under the Peoples Redemption Party (PRP).
Rinsola Abiola recently lost bid to become the National Youths Leader of the All Progressive Congress while Tundun Abiola, a lawyer and Television Anchor on one of Nigeria's leading TV houses, Arise, would not have anything of 'using' her father's name to gain political advantages.
In short, MKO is in the air again and in this interview with HALIMAH OLAMIDE, AbdulMumin, spoke on her sister's choice, Governor Bello, Kola Abiola and issues falling out of the 2023-induced debates around the MKO family. Excerpts: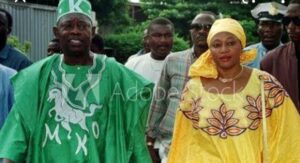 What is Your Impression of Governor Yahaya Bello And His Presidential Ambition?
His Excellency, Governor Yahaya Bello and I have met before and my first impression of him was that he was really humble when I met him. Another thing that really struck me about him was that I could relate to him. He is young and energetic. He came off, to me, as a man who knows his own shadow. I felt the love and the sense that he wasn't absorbed with the whole flamboyance of being in power and I was impressed.
I also realized that he employed women into a lot of leadership positions; having quite a number of younger people too in his cabinet. He is someone who saw the problems in a state and realized that the way to solve it was through new thinking and a different approach and he chose to use the youths to drive his agenda and I believe that is the answer to the Nigerian issue. We need to incorporate our mindsets because we all think differently.
About his presidential ambition, I don't see why I should have any other opinion as far as he is a Nigerian and we can all agree that is the case. Anybody can go ahead as long as they meet the requirements. So, I would actually encourage him to do that and even other young people who feel that they have the capacity should please come out and show themselves.
Our tomorrow is 2023 and we cannot afford to make mistakes because for 30 years, we have been trying the same thing and this thing has proved time and time again not to work.
What Would You Say About Your Sister, Hafsat's Appointment As His DG Campaign?
When you try to strengthen democracy, it is like bringing in people who were a part of the struggle for democracy. I had a conversation with my sister on hearing the news of her becoming the DG of campaign and she said to me she had a meeting with His Excellency, Governor Yahaya Bello and in the meeting, he was very clear what his mission was and his mission, as far as what my sister told me, was that we have a democracy thanks to a lot of people and two of the key figures are my father and my mother and that even after the way everything had gone bad, that there was still something left behind. My father did not just die. The documents he had put together with his sweat, time, to create his manifesto; the governor told my sister he would like to incorporate that manifesto to fit the purpose of Nigeria for today and in other for him to achieve that, it will be at an advantage if those who were a part of the initial plan or who will be more protective of the legacy are directly involved in his campaign. My father's idea remains one of the strategies that should be explored in situations we have in the country.
My sister also told me that when she looked Governor Yahaya in the face, she could see her own reflection and that means a lot. We have a country today where the leadership does not reflect the population. We need someone who is energetic and thinks about the prosperity of the nation.
So, she saying she could see her reflection in him, she meant that she could relate to him. What we need in Nigeria today is to encourage the young ones (the youths) to stand up and be counted. My sister is saying that nobody in the past four governments have thought to input the Abiolas into a leadership position so we can all safeguard this democracy and that, no matter the platform, it is "Nigeria First." The idea for her is how to move the country forward. I am telling you for a fact that there is no way my sister would be in government and things are going in a way my father would not be pleased about and she would not voice out. When you bring in people of caliber and something to protect other than money, you'd end up with something that Nigerians would be proud of. If we miss 2023, we can say bye-bye to Nigeria.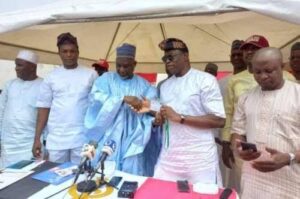 How Does This Sit With The Mko Abiola Family?
Well, after the news of my sister being the campaign DG came out, a sibling of ours came out to castigate my sister saying that she threw our father under the bus. When my father wanted to run for office, my mom supported him. When he was jailed, my mom was out there yelling, "Free Abiola." My father was still in jail when my brother, Alhaji Kola Abiola was gallivanting with Babangida's daughter, claiming he was going to marry her.
I did not see my sister, Tundun say anything about anyone throwing my father under the bus. I find it funny when people come like they don't know what transpired in the past or they have forgotten; which they have because the Nigerian people really suffered. Do you know how many people have died since 1993? My sister would never, in her life, do anything that would undermine my father.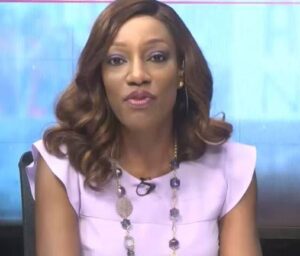 Is The Entire Family In Agreement With Her Undertaking This Assignment?
Hafsat is working on her own ambition. She wants to do this and she's doing it for her own reasons. It doesn't matter who my sister supports. What matters is that she's a part of the system. She's engaging the process. Yes, my sister has decided that she would work for him and I am sure she would do her hundred percent best to ensure that he gets the ticket. But, like I said, if he doesn't get the ticket, it is not the end of the world because we are all working towards the same goal which is a better Nigeria. When I asked my sister how she came up with this decision, it made sense to me telling me she's looking at someone she can emulate. That means she can see something. If we have a candidate that is young, energetic, has the capacity and the knowledge to know that you're not doing this thing by yourself, and it's the knowledge to include others… So, for me, if Governor Yahaya Bello was 10 before in my eyes, now he's 50 because he has now associated himself with people of caliber, charisma and people who will not sell their votes and the Nigerian people out.
For my sister, I would support her in the sense that I will not talk against her. I'd say if she's comfortable, then Alhamdulilah and as for me, I'm encouraged because this man is young. I, too, can identify with him. We need to have someone that inspires us to move from where we are today and to even dream of a future because now, Nigerians don't even dream anymore. The only dream that a Nigerians has is to leave Nigeria. Is that the dream? That is not the dream! My dream is to stay and die in my country. But I can promise you that if we continue doing the same things over and over again, then, we have lost it.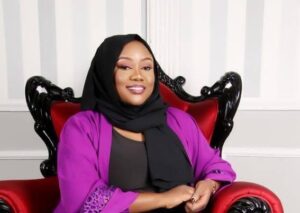 Do You Agree With Hafsat Comparing Governor Yahaya Bello
With Your Father?
In this is a comparison. She was talking about characteristics. These are attributes. She said my father was an accountant; Yahaya Bello is an accountant too. These are attributes and it's not just for one person. It doesn't mean that Abiola is less than or more than. The bottom line here is that she explained herself. She said they were both accountants and his outlook reminds her of her dad. That is her own opinion! You don't have to agree. Let's stop all these semantics of "who is like Abiola or not." Abiola is gone! When you have someone that feels like they're the only ones that can come up with an idea, then we can say that you've missed the points. And with me, whenever I meet Ogbeni Rauf Aregbesola, (the Minister of Interior) he reminds me of my dad with the way he interacts and talks to people. You don't have to agree but it doesn't mean you should start getting upset or angry.